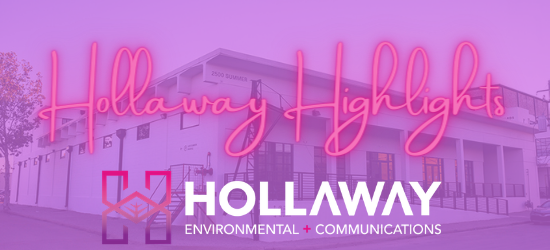 From the Desk of the CEO and Owner
Intention: All are welcome here.
At Hollaway Environmental + Communications Services, it is top priority for me to retain the very best talent-driven and adept environmental and communications experts committed to doing the very best work in the industry. That means taking care of people first and foremost, every single day and in every single way possible. An important part of that includes celebrating and acknowledging the diverse identities on our team and in our community which is why we are unabashed in our celebration of LGBTQIA+ Pride month.
It should not go without saying that ALL are welcome here at Hollaway, regardless of race, ethnicity, gender, sexual orientation, age, social class, physical ability or attributes, religious values, national origin, and political beliefs. Always. We are committed to not just diversity, equity, and inclusion, but intentionally creating space for people to be their true and authentic selves.
When people feel safe and their needs are met, they have the personal freedom and the bandwidth to create, to inspire to "dig in," and to solve BIG problems. These are the qualities of the very best consultants.
Our core values at Hollaway are at the heart of this sense of individual freedom and our resulting success:
Significance – Our ability to drive REAL results on

every

project we serve.
Courage – Doing what it takes to lean in, try something new, to learn, and to overcome challenges.
Accountability – We take responsibility. Always.
Leadership – Every employee at Hollaway is empowered to serve our clients with care, to grow, to lead, and to serve the greater communities in which we live, work, and play.
Empathy – We recognize the humanity and dignity of every person we encounter, and this is at the heart of everything we do.
From the bottom of my heart, thank YOU for the opportunity to lead a truly visionary company that respects, cares for, and benefits its clients and employees alike. This is a dream come true.
With love,
Leslie (she/her)
---
3 Ways To Celebrate Pride

Education

—All year, but especially in June, commit to learning more about the LGBTQIA+ community and experience. Looking for a book to read? I highly recommend "Untamed" by Glennon Doyle.

Be a visible ally

– Things like adding your pronouns to an email signature or sharing them when meeting new people help create a more inclusive space. Feel free to reach out to me if you have questions about the "why" behind this – I'd be happy to discuss it with you.

Donate your time and money

–

The Montrose Center

is just one of many Houston-based non‑profit organizations that offer behavioral health and support services to LGBTQIA+ community members. You can volunteer your time or donate

here.
---
Get to Know Hollaway Team Members
In each newsletter, we will highlight two employees.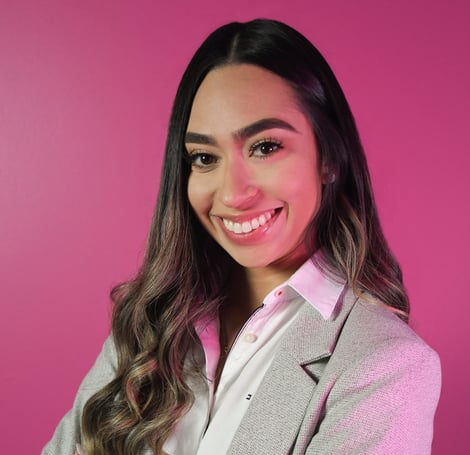 Rosaura Martinez
Ms. Rosaura Martinez is a bilingual professional with more than 5 years of experience in public relations, direct marketing, communications, and public engagement. At Hollaway Environmental + Communications Services, she works as a Communications Specialist providing support for both public and private clients and for large-scale infrastructure and transportation projects.
1. Hire Date: May 11, 2020
2. Hometown: Houston, Texas
3. Favorite Food: Pizza
4. Song that best describes your personality: Can't stop the feeling by Justin Timberlake
5. Coolest project you've worked on: Surface Water Supply Project (SWSP)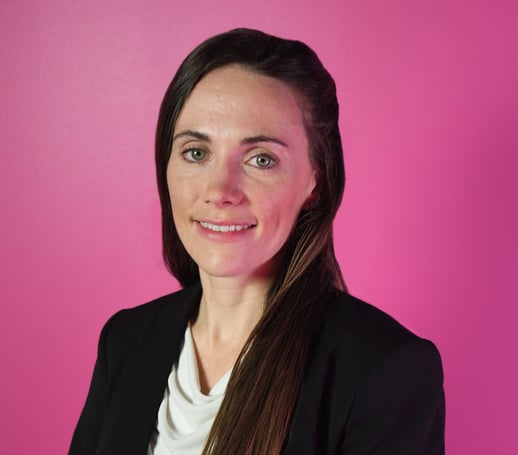 Kasey Clarke
Since joining HECS, Ms. Clarke has gained a wide variety of experience in environmental services including wetland delineations, threatened and endangered species surveys, oyster surveys, freshwater mussel surveys, environmental inspections, stormwater monitoring, and Phase I Environmental Site Assessments. Ms. Clarke has supported an array of projects including federal and state permitting, private development, mitigation, transportation, and dredging. Ms. Clarke brings with her a strong background in avian biology and behavior.
1. Hire Date: October 15, 2018
2. Hometown: Houston, Texas
3. Favorite Food: TexMex
4. Song that best describes your personality: I have no idea, I'm so bad at these questions. I really like the bands Talking Heads and Sylvan Esso.
5. Coolest project you've worked on: Mitigation monitoring on Mustang Island. The reason for the project isn't that great, but I enjoy restoring habitats and Mustang Island is really beautiful.