It is my pleasure to announce the two newest partners at Hollaway Environmental + Communications Services, Inc.! After six years of dedicated service and significant contributions to the company's growth, Claire Garvin and Jennifer Smith have joined me at the helm of company ownership.
As the longtime, single shareholder for the company, I am both excited and comforted to have partners to join me in this adventure. Truly, Hollaway would not be the company it is today without Claire and Jennifer's continued leadership, courage, creativity, and commitment to personal and professional development.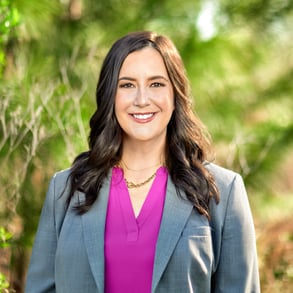 Claire Garvin, our COO, joined Hollaway in 2016 as our Director of Environmental Services, bringing many years of diverse industry experience to what was then "our little company that could." In her role as Director of Environmental Services, she stabilized and developed our environmental services department while working hand-in-hand with our team to build new opportunities and cultivate our technical expertise. In 2018, Claire was promoted to Vice President of the company. In this role, she worked as a member of our Executive Team to develop and document our processes, procedures, and overall operations here at Hollaway. In 2020, we worked together to restructure our roles and responsibilities at the company, and Claire then assumed the role of Chief Operating Officer.

Claire's enthusiasm for our industry, steadfast dedication to the company, considerate nature, careful oversight of company operations, and commitment to issue resolution and team development are among the many reasons why I am thrilled to work alongside Claire as my partner.
Jennifer Smith, our CPO, also joined Hollaway in 2016. With many years of human resources and business management expertise, Jennifer joined our team as our first Business + Office Manager. In this role, Jennifer immediately got to work establishing financial and operations processes and protocols at a time when we had little structure as a small business, and she was quickly promoted to "Director of Operations." Jennifer chose to pursue her professional goals by achieving certification through the Society for Human Resource Management (SHRM), resulting in a new role as "Director of People + Culture" at Hollaway in 2020. In 2021, Jennifer's role at the company was elevated to "Chief People Officer," and she has since achieved certification as a Diversity, Equity, Inclusion, + Belonging (DEI+B) Specialist, furthering her commitment to grow and foster an inclusive culture at Hollaway that reflects our mission, vision, and values.
Jennifer's steadfast commitment to the company, candor as a human resources professional, dedication to her own professional growth as well as the growth of others, and her sincere attitude are just a few reasons why I look forward to a long and prosperous partnership with Jennifer.
I have long lived by the mantra that "there is plenty of room at the table," and affording my dedicated Chief Operating Officer and Chief People Officer significant seats at Hollaway's table has been one of the greatest honors of my life so far.
Please join me in congratulating Claire and Jennifer in this joyous next step for Hollaway!
Sincerely,
Leslie Hollaway